PROMO BANNERS stand on their own and deliver a professional looking display at an economical price. Great for tradeshows, corporate events, and promotional appearences. These custom retractable banners will make a great impression.
PROMO BANNERS are constructed with the highest quality Expo Film Matte Vinyl. Set up and break down of the display takes only seconds and conveniently stores in its included padded travel bag.
PROMO BANNERS stands are made of sturdy aluminum material. An optional light is available to brighten your message.
PROMO BANNERS can be custom printed with your brand colors & logos. We use full digital color image reproduction to create a lasting impression for your brand.
| | | | | | | |
| --- | --- | --- | --- | --- | --- | --- |
| Quantity | 1-5 | 6-10 | 11-25 | 26-50 | 51-99 | 100 |
| Retail | $299 | $269 | $239 | $209 | $179 | $159 |
| | | | | | | |
| --- | --- | --- | --- | --- | --- | --- |
| Quantity | 1-5 | 6-10 | 11-25 | 26-50 | 51-99 | 100 |
| Retail | $319 | $289 | $259 | $229 | $199 | $179 |
| | | | | | | |
| --- | --- | --- | --- | --- | --- | --- |
| Quantity | 1-5 | 6-10 | 11-25 | 26-50 | 51-99 | 100 |
| Retail | $349 | $319 | $289 | $259 | $229 | $199 |
| | | | | | | |
| --- | --- | --- | --- | --- | --- | --- |
| Quantity | 1-5 | 6-10 | 11-25 | 26-50 | 51-99 | 100 |
| Retail | $399 | $369 | $339 | $309 | $279 | $259 |
| | | | | | | |
| --- | --- | --- | --- | --- | --- | --- |
| Quantity | 1-5 | 6-10 | 11-25 | 26-50 | 51-99 | 100 |
| Retail | $49 | $44 | $39 | $36 | $32 | $28 |
| | | | | | | |
| --- | --- | --- | --- | --- | --- | --- |
| Quantity | 1-5 | 6-10 | 11-25 | 26-50 | 51-99 | 100 |
| Retail | $249 | $239 | $229 | $209 | $199 | $189 |
| | | | | | | |
| --- | --- | --- | --- | --- | --- | --- |
| Quantity | 1-5 | 6-10 | 11-25 | 26-50 | 51-99 | 100 |
| Retail | $189 | $169 | $149 | $129 | $109 | $99 |
| | | | | | | |
| --- | --- | --- | --- | --- | --- | --- |
| Quantity | 1-5 | 6-10 | 11-25 | 26-50 | 51-99 | 100 |
| Retail | $229 | $209 | $189 | $169 | $149 | $129 |
| | | | | | | |
| --- | --- | --- | --- | --- | --- | --- |
| Quantity | 1-5 | 6-10 | 11-25 | 26-50 | 51-99 | 100 |
| Retail | $44 | $39 | $34 | $31 | $27 | $22 |
| | | | | | | |
| --- | --- | --- | --- | --- | --- | --- |
| Quantity | 1-5 | 6-10 | 11-25 | 26-50 | 51-99 | 100 |
| Retail | $189 | $169 | $149 | $129 | $109 | $99 |
| | | |
| --- | --- | --- |
| | Stand | Print by SqFt |
| | $249 | $5.50 SqFt |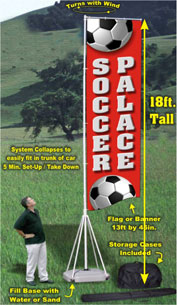 I SIDED ART
1-4

5-24

25-99

100
$475

$450

$440

$425
2 SIDED ART
1-4

5-24

25-99

100
$475

$450

$440

$425