PROMO MUGS put your Logo in your customers hands and Silk Screen Process give them a taste of your brand. Available in over 15 different styles and color options, each with their own unique features,allowing you to choose a mug that will best promote what your business or brand is all about.
PROMO MUGS are great to have on hand at meetings, allowing you to reinforce your branding to clients and colleagues. Also try giving them out to employees, allowing your logo to travel to and from the work place creating exposure in public places and in the household.
PROMO MUGS can be custom printed with your brand colors & logos. We use silkscreen printing or laser etching to create a lasting impression for your brand.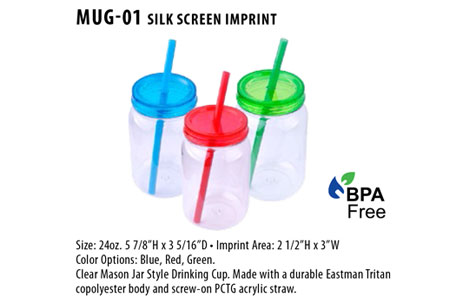 | | | | | | |
| --- | --- | --- | --- | --- | --- |
| QTY | 72 | 144 | 360 | 720 | 1,440 |
| 1 Color | $4.83 | $4.68 | $4.54 | $4.40 | $4.26 |
| 2 Color | $5.39 | $5.24 | $5.08 | $4.92 | $4.76 |
| Shipping Weight | 33 LBS | 66 LBS | 165 LBS | 330 LBS | 660 LBS |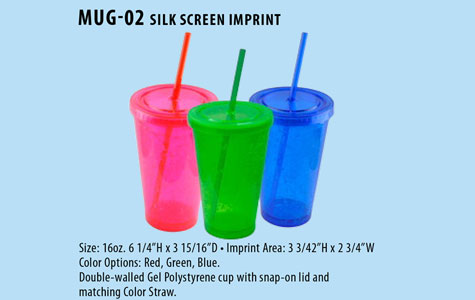 | | | | | | |
| --- | --- | --- | --- | --- | --- |
| QTY | 72 | 244 | 360 | 720 | 1,440 |
| 1 Color | $5.68 | $5.51 | $5.34 | $5.18 | $5.01 |
| 2 Color | $6.25 | $6.06 | $5.88 | $5.69 | $5.51 |
| Shipping Weight | 49.5 LBS | 99 LBS | 247.5 LBS | 495 LBS | 990 LBS |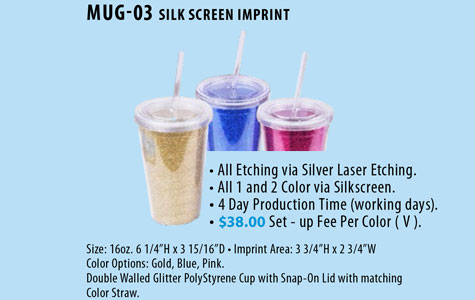 | | | | | | |
| --- | --- | --- | --- | --- | --- |
| QTY | 72 | 144 | 360 | 720 | 1,440 |
| 1 Color | $5.68 | $5.51 | $5.34 | $5.18 | $5.01 |
| 2 Color | $6.25 | $6.06 | $5.88 | $5.69 | $5.51 |
| Shipping Weight | 36 LBS | 72 LBS | 180 LBS | 360 LBS | 720 LBS |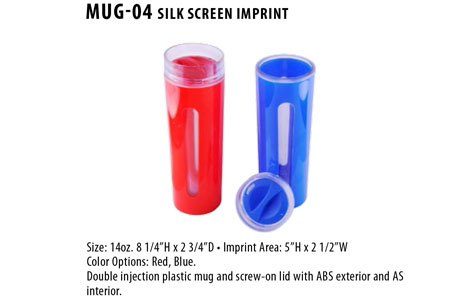 | | | | | | |
| --- | --- | --- | --- | --- | --- |
| QTY | 108 | 216 | 540 | 1080 | 2,160 |
| 1 Color | $11.92 | $11.57 | $11.22 | $10.87 | $10.52 |
| 2 Color | $12.49 | $12.12 | $11.76 | $11.39 | $11.02 |
| Shipping Weight | 76.5 LBS | 153 LBS | 382.5 LBS | 765 LBS | 1,530 LBS |
| | | | | | |
| --- | --- | --- | --- | --- | --- |
| QTY | 96 | 192 | 480 | 960 | 1,920 |
| 1 Color | $5.54 | $5.37 | $5.21 | $5.05 | $4.88 |
| 2 Color | $6.10 | $5.92 | $5.74 | $5.57 | $5.39 |
| Shipping Weight | 36 LBS | 72 LBS | 180 LBS | 360 LBS | 720 LBS |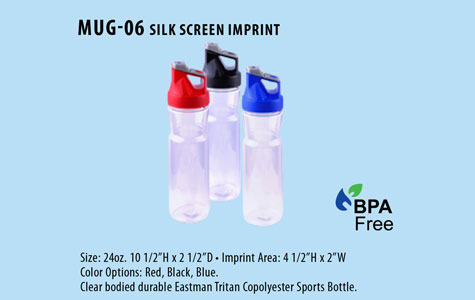 | | | | | | |
| --- | --- | --- | --- | --- | --- |
| QTY | 120 | 240 | 600 | 1,200 | 2,400 |
| 1 Color | $5.25 | $5.10 | $4.94 | $4.79 | $4.63 |
| 2 Color | $5.82 | $5.65 | $5.48 | $5.31 | $5.14 |
| Shipping Weight | 33 LBS | 66 LBS | 165 LBS | 330 LBS | 660 LBS |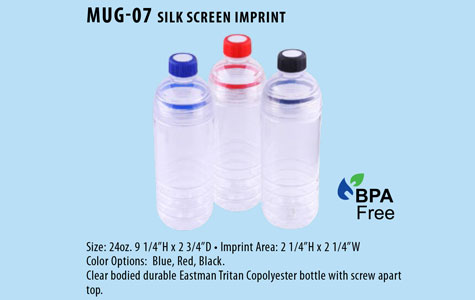 | | | | | | |
| --- | --- | --- | --- | --- | --- |
| QTY | 96 | 192 | 480 | 960 | 1,920 |
| 1 Color | $6.79 | $6.59 | $6.39 | $6.19 | $5.99 |
| 2 Color | $7.35 | $7.14 | $6.92 | $6.70 | $6.49 |
| Shipping Weight | 37 LBS | 74 LBS | 185 LBS | 370 LBS | 740 LBS |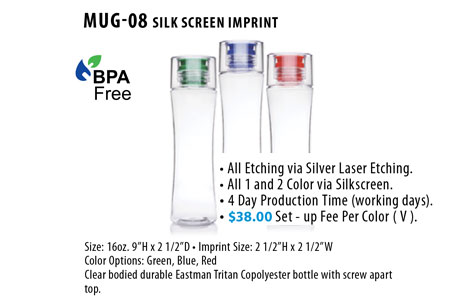 | | | | | | |
| --- | --- | --- | --- | --- | --- |
| QTY | 120 | 240 | 600 | 1,200 | 2,400 |
| 1 Color | $6.22 | $6.03 | $5.85 | $5.67 | $5.49 |
| 2 Color | $6.79 | $6.59 | $6.39 | $6.19 | $5.99 |
| Shipping Weight | 41 LBS | 82 LBS | 205 LBS | 410 LBS | 820 LBS |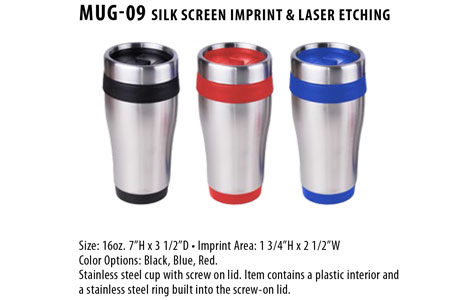 | | | | | | |
| --- | --- | --- | --- | --- | --- |
| QTY | 75 | 150 | 375 | 750 | 1,500 |
| 1 Color | $4.68 | $4.55 | $4.41 | $4.27 | $4.13 |
| 2 Color | $5.25 | $5.10 | $4.94 | $4.79 | $4.63 |
| Etching | $4.54 | $4.41 | $4.28 | $4.14 | $4.01 |
| Shipping Weight | 42 LBS | 84 LBS | 210 LBS | 420 LBS | 840 LBS |
| | | | | | |
| --- | --- | --- | --- | --- | --- |
| QTY | 108 | 216 | 540 | 1,080 | 2,160 |
| 1 Color | $7.24 | $7.03 | $6.81 | $6.60 | $6.39 |
| 2 Color | $7.81 | $7.58 | $7.35 | $7.12 | $6.89 |
| Etching | $7.10 | $6.89 | $6.68 | $6.47 | $6.26 |
| Shipping Weight | 72 LBS | 144 LBS | 360 LBS | 720 LBS | 1,440 LBS |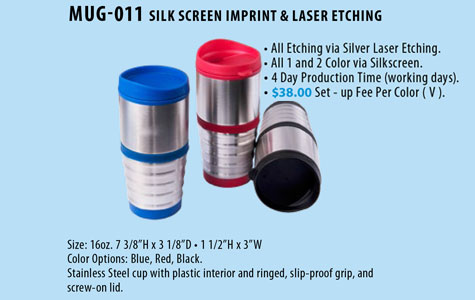 | | | | | | |
| --- | --- | --- | --- | --- | --- |
| QTY | 72 | 144 | 360 | 720 | 1,440 |
| 1 Color | $5.11 | $4.96 | $4.81 | $4.66 | $4.51 |
| 2 Color | $5.68 | $5.51 | $5.34 | $5.18 | $5.01 |
| Etching | $4.97 | $4.82 | $4.68 | $4.53 | $4.38 |
| Shipping Weight | 40.5 LBS | 81 LBS | 202.5 LBS | 405 LBS | 810 LBS |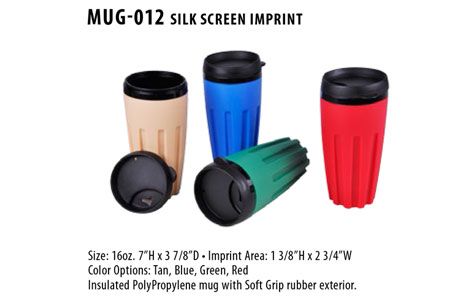 | | | | | | |
| --- | --- | --- | --- | --- | --- |
| QTY | 96 | 192 | 480 | 960 | 1,920 |
| 1 Color | $3.97 | $3.86 | $3.74 | $3.62 | $3.51 |
| 2 Color | $4.54 | $4.41 | $4.28 | $4.14 | $4.01 |
| Shipping Weight | 40 LBS | 80 LBS | 200 LBS | 400 LBS | 800 LBS |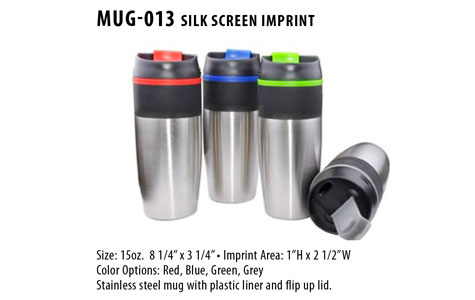 | | | | | | |
| --- | --- | --- | --- | --- | --- |
| QTY | 100 | 200 | 500 | 1,000 | 2,000 |
| 1 Color | $6.50 | $6.31 | $6.12 | $5.93 | $5.74 |
| 2 Color | $7.07 | $6.86 | $6.65 | $6.45 | $6.24 |
| Shipping Weight | 58 LBS | 116 LBS | 290 LBS | 580 LBS | 1,160 LBS |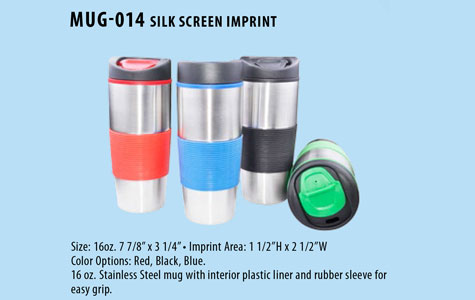 | | | | | | |
| --- | --- | --- | --- | --- | --- |
| QTY | 100 | 200 | 500 | 1,000 | 2,000 |
| 1 Color | $5.37 | $5.21 | $5.05 | $4.89 | $4.73 |
| 2 Color | $5.93 | $5.76 | $5.58 | $5.41 | $5.24 |
| Shipping Weight | 53 LBS | 106 LBS | 265 LBS | 530 LBS | 1,060 LBS |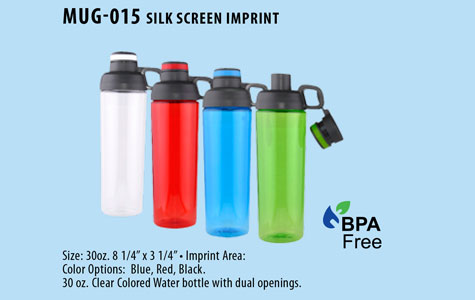 | | | | | | |
| --- | --- | --- | --- | --- | --- |
| QTY | 100 | 200 | 500 | 1,000 | 2,000 |
| 1 Color | $7.84 | $7.61 | $7.37 | $7.14 | $6.91 |
| 2 Color | $8.40 | $8.16 | $7.91 | $7.66 | $7.41 |
| Shipping Weight | 42 LBS | 84 LBS | 210 LBS | 420 LBS | 840 LBS |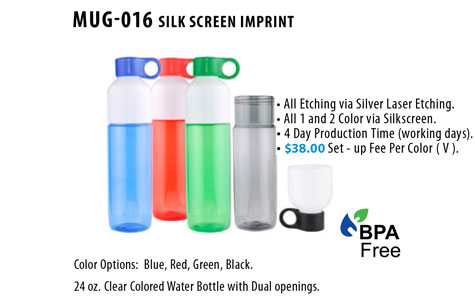 | | | | | | |
| --- | --- | --- | --- | --- | --- |
| QTY | 100 | 200 | 500 | 1,000 | 2,000 |
| 1 Color | $6.44 | $6.25 | $6.07 | $5.88 | $5.69 |
| 2 Color | $7.01 | $6.81 | $6.60 | $6.39 | $6.19 |
| Shipping Weight | 33 LBS | 66 LBS | 165 LBS | 330 LBS | 660 LBS |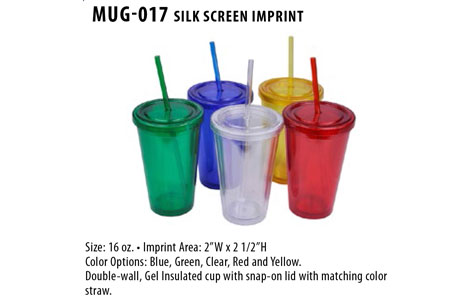 | | | | | | |
| --- | --- | --- | --- | --- | --- |
| QTY | 96 | 192 | 480 | 960 | 1,920 |
| 1 Color | $4.24 | $4.00 | $3.89 | $3.77 | $3.65 |
| 2 Color | $4.54 | $4.29 | $4.16 | $4.03 | $3.91 |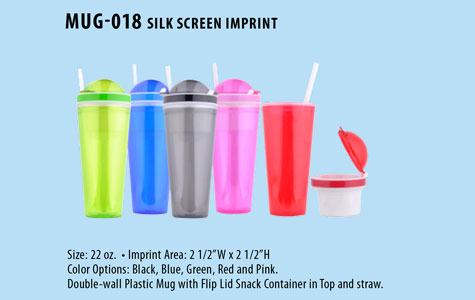 | | | | | | |
| --- | --- | --- | --- | --- | --- |
| QTY | 100 | 200 | 500 | 1,000 | 2,000 |
| 1 Color | $7.97 | $7.52 | $7.30 | $7.08 | $6.86 |
| 2 Color | $8.27 | $7.81 | $7.58 | $7.35 | $7.12 |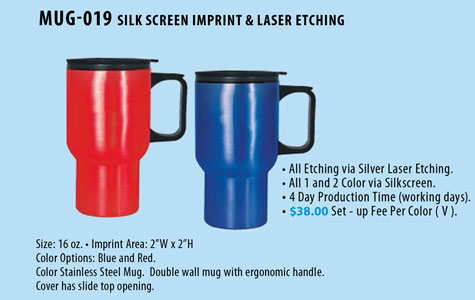 | | | | | | |
| --- | --- | --- | --- | --- | --- |
| QTY | 108 | 216 | 540 | 1,080 | 2,160 |
| 1 Color | $4.99 | $4.71 | $4.57 | $4.44 | $4.30 |
| 2 Color | $5.29 | $5.00 | $4.85 | $4.70 | $4.56 |
| Etching | $5.14 | $4.85 | $4.71 | $4.57 | $4.43 |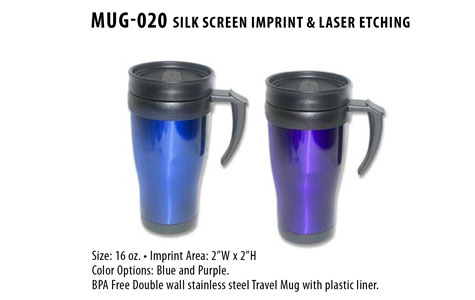 | | | | | | |
| --- | --- | --- | --- | --- | --- |
| QTY | 108 | 216 | 540 | 1,080 | 2,160 |
| 1 Color | $4.60 | $4.34 | $4.22 | $4.09 | $3.96 |
| 2 Color | $4.90 | $4.63 | $4.49 | $4.36 | $4.22 |
| Etching | $4.75 | $4.49 | $4.35 | $4.22 | $4.09 |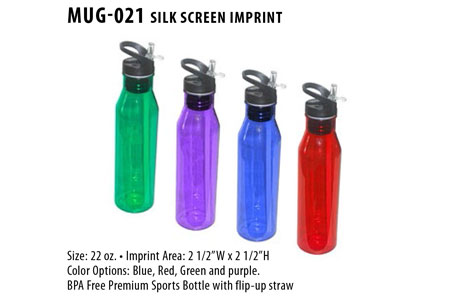 | | | | | | |
| --- | --- | --- | --- | --- | --- |
| QTY | 96 | 192 | 480 | 960 | 1,920 |
| 1 Color | $5.59 | $5.28 | $5.13 | $4.97 | $4.81 |
| 2 Color | $5.89 | $5.56 | $5.40 | $5.24 | $5.07 |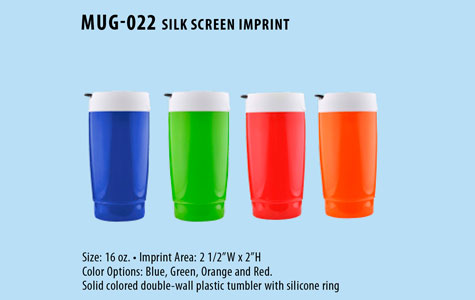 | | | | | | |
| --- | --- | --- | --- | --- | --- |
| QTY | 100 | 200 | 500 | 1,000 | 2,000 |
| 1 Color | $5.35 | $5.05 | $4.90 | $4.76 | $4.61 |
| 2 Color | $5.65 | $5.34 | $5.18 | $5.02 | $4.87 |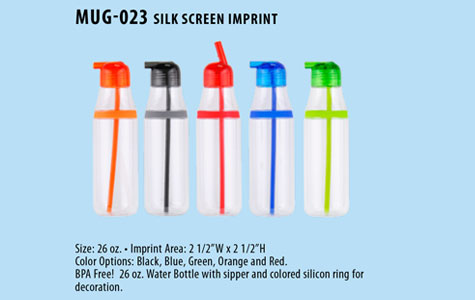 | | | | | | |
| --- | --- | --- | --- | --- | --- |
| QTY | 100 | 200 | 500 | 1,000 | 2,000 |
| 1 Color | $6.67 | $6.30 | $6.12 | $5.93 | $5.75 |
| 2 Color | $6.67 | $6.30 | $6.12 | $6.20 | $6.01 |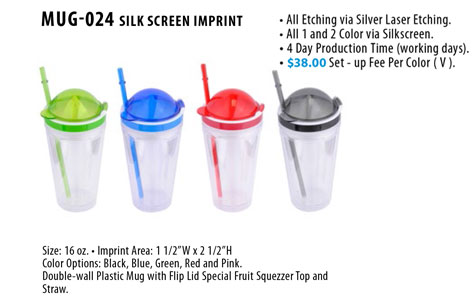 | | | | | | |
| --- | --- | --- | --- | --- | --- |
| QTY | 100 | 200 | 500 | 1,000 | 2,000 |
| 1 Color | $7.06 | $6.67 | $6.48 | $6.28 | $6.08 |
| 2 Color | $7.36 | $6.96 | $6.75 | $6.55 | $6.34 |